Sunday, April 24, 2016
Sri Lanka (Ceylon) is one of those tiny unknown tourist destinations in Indian Ocean which people hardly hear about. Located south east of Tamil Nadu, its an island which has great diversity in landscapes, food and adventure. Our honeymoon trip was planned for Maldives, but since flights from India to Male go through Colombo, we decided to do a 4 day stopover in Lanka.
Day 1: Chennai to Colombo to Pinnawala to Kandy
Chennai Airport
Our flight to Colombo was from Chennai. True to the culture we decided to take Sri Lankan airlines for this part and we didn't regret the choice. A short haul (1 hr) from Chennai, the hospitality was superb and quality of flight and food was top-notch. It was early saturday morning when we reached Bandarnaike International Airport. Since our visas were approved online, the immigration was smooth. Thanks to Mr. Siri, we had a Toyota Hybrid Prius waiting to pick us up for our journey and Mr. Sisira to guide us through our road trip for 4 days.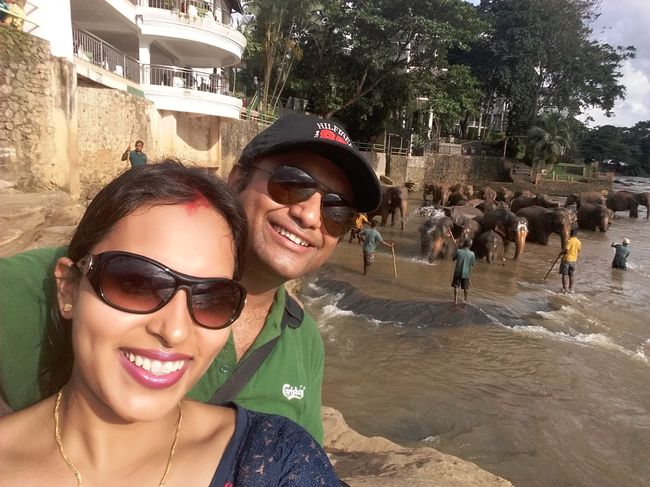 Watching the elephants bathing
From the airport, upon exit we directly headed towards Pinnawala en route to the first night stop at Kandy, a small hill station in the central province of Sri Lanka. After a sumptuous lunch of the famous Sri Lankan rice and fish curry, we reached Pinnawala, known for its huge Elephant Orphanage at about 2:30pm. At the entrance after the first left, you see a couple of small elephants breaking wooden logs. These were the chained ones and so tourists were freely taking photographs with them. One of the elephants actually flung a log at us while we were taking pics with him. The place borders a hill and has a river on the other side where the elephants are taken for daily bath. So we visited that river bank next. What greeted us was a massive sight. 50 odd elephants bathing at the side of the river and workers throwing water on them. Beautiful! The best part was the child elephants who jostled past the elders to move at the head of the pack when they came marching back to the orphanage. Brilliant!
Our next stop was a tea factory. Ceylon tea is well known for English flavours and this place had it all. When we entered the factory, an ever-smiling lady greeted us for a tour around the factory. From drying of tea leaves to filtration, fermentation & processing, she guided us throughout the place. There is even a small gallery showcasing the history of tea manufacturing in Sri Lanka. Very insightful. The in-house shop had all kinds of packaged tea viz. liquor, flavour etc. We bought 2 packs of liquor tea for our parents and set forth towards Kandy.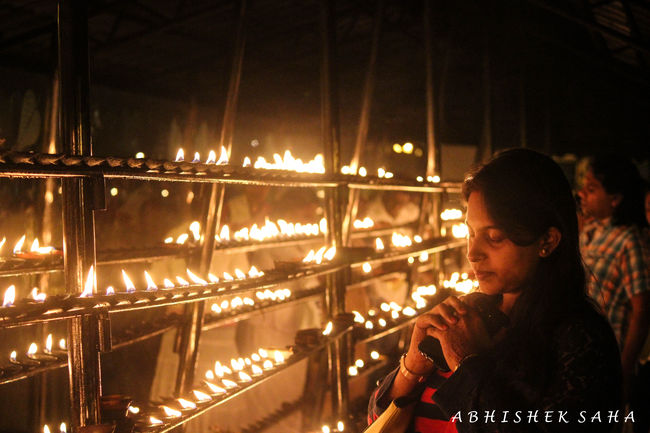 Praying at Temple of Tooth Relic
A hill station, Kandy is comfortably located in the central province in Sri Lanka. It is a quite town, compared to the hustle bustle of Colombo. When we reached it was already dark and we were getting late for the temple visit. So instead of checking into the hotel, we headed towards the
Temple of Tooth Relic
. Temple of Tooth Relic is a Buddhist temple famous for Lord Buddha's tooth which supposedly travelled from Kalinga to Kandy and is a antique item here. The temple hallway has the story about this along the hallway. At the end of the hallway is the statue of Lord Buddha. When we entered the temple, it was time for the evening prayers. So all the drum players started the rituals along with the head priest who had the candles. Very similar to Hindu temple rituals. After offering our prayers, we finally headed to our first stay of the journey, Hotel Hill Top. True to its name, it was situated on top of a hill and we were lucky to get a city view room. The room was very well made, the dining area was beside the swimming pool & since Christmas was closeby, the entire hotel was decorated with christmas trees & presents. We finished our day with a sumptuous sri lankan rice curry meal & some evening dance beside the dining area.
Day 2: Kandy to Nuwara Eliya
As our 1st day was hectic, we started this day a little relaxed. Woke up late to some beautiful view of the hills & then a lazy breakfast at the restaurant. At about 11, we left for the Botanical gardens. Some lovely collection of flowers and nice hilly concept; quite similar to the one in Munnar. From there we directly left for Nuwara Eliya.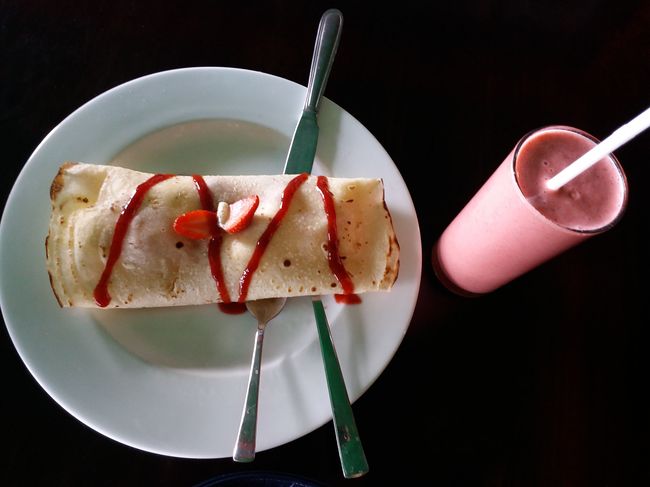 Strawberry pancake
We reached Nuwara Eliya around dusk. The first stop on the way was the strawberry farm named Adman's. Located on the horton plains road, the farm had a small shop alongside selling dishes like strawberry pancakes, juice, cake etc. So after some clicks inside the covered area, we ordered for a strawberry pancake at the shop. Boy, was it delicious! Absolutely filling, the pancake had strawberry sauce & ice cream inside which made it superb. We were absolutely delighted as we headed towards our stay, Hotel Heaven Seven. Located just off the road, this hotel was on the road up the hill. And as expected, the room opened up to the view of the hills. Truly breathtaking. After checking in, we left for temple hopping & shopping in the local market. There was a Hindu temple nearby where we offered evening prayers. But just as we headed into the market, it came pouring down. With no umbrellas & slight cold setting in, we decided to call it a day and headed back to our hotel. A candle lit dinner of steak and fish and we retired to our rooms content.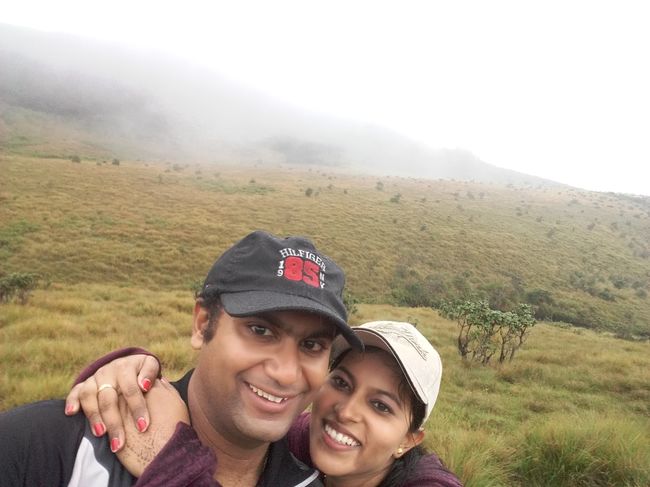 Trekking at Horton Plains National Park
Probably the most hectic day of our trip, the day started with early breakfast as we headed to Horton Plains National Park. In the hour long drive, we climbed up one of the most scenic hills. Small windmills reminding of english farms, tea gardens and what not. There was even a lake on the way, giving us some stunning photographs. As we neared the park, the cloudy mountains greeted us with lovely views. The park has some famous points namely 'World's End', 'Baker's Fall' etc along a trek which is about 10km long. When we started, it was quite sunny and lot of people were walking up the route, some even barefoot. As we entered the forest, the route became tougher. Due to rains, the road had broken and was quite slippery. With some help, we walked about 4km to reach the
'World's End'
, a cliff literally falling into the clouds. The story goes that on a clear day you can see the sea but mostly its cloudy.
Baker's Fall
From there the route crosses the river and starts climbing up through the trees. That's where it started raining. While this was predicted, we didn't expect it to pour so hard. The route had become so slippery that we were holding on to the trees to find our footing. We had almost decided to skip the
'Baker's Fall'
when we found a cemented staircase down to the falls. The floor of the stairs didn't let us go into the river though it was quite close. As we headed back, we realized that it took us more than 3.5 hours to complete the trek but we had made it home. And they had closed any entry by that time due to rains. As we were fully drenched, we changed before having some cup o noodles for lunch. From there we started for our 5 hour road trip to Colombo in the middle of the rains. So tired were we that I barely remember that part of the journey apart form stopping for some bread and tea.
It was exactly 9pm when I was woken up by Samragni saying that we had reached Cinnamon Red Hotel in Colombo. By far the best hotel of the trip, Cinnamon Red is located in the city center and has some 26 floors with a roof top bar. And that is where we headed for dinner and drinks. We had a quiet dinner and quickly headed for the roof top bar. But alas, as we entered the open bar area, the disappointment set in. It was raining here too. All the guests were in the enclosed smoking area, and the bar was closed. Disappointed, we called it a day and slept off quickly.
Day 4: Colombo & Hikkaduwa

Roof Top Swimming Pool, Cinnamon Red Hotel, Colombo
We woke up quickly on our last day of the trip. Having heard stories of the infinity pool, we quickly headed for an early morning dip. A sunny morning, the pool was open and luckily for us, no other group was present at 8am. So we had like a private roof top pool with a sea view. Perfect. There were seating areas on the side as well as the stairs below and we relaxed for over an hour. Morning workouts deserve a sumptuous breakfast. And what a breakfast we had. The buffet had sausages, muffins, chocos, pancakes, omlettes and what not. Overate so much that I needed an hour of sleep after that to digest the meal.
Sudden plans for Hikkaduwa
After we checked out, it was time for some sightseeing. So we headed to the Buddha temple at the center of the city. The statue was huge and they had a lot of antique items along. A nice peaceful time. We then headed towards the southern city of Galle to go to Hikkaduwa beach. Mr. Sisira said that the expressway would take about an hour to reach Hikkaduwa, just in time for sunset. So we were on our way. At Hikkaduwa we could do water sports and that was the plan. Around 4:30, we reached Hikkaduwa and straightaway decided to go for snorkelling. There were scores of diving shops there and we chose the one who had a trusted diver. So we took our masks and onto the water.
Sunset at Hikkaduwa Beach, Galle
Now, this was my 5th snorkelling experience so I was calm, but Samragni was experiencing her first. Me and the guide were on both sides of her pulling her into the sea. We crossed about 2 groups of blue, yellow, green fishes and then it came. We saw a huge turtle. It was bigger than me and furiously swimming towards us. The guide had some bait so the turtle was onto us. As I was brushing its shell, Samragni became scared seeing its head close by. And by this time, the entire group of swimmers had come on our side seeing the huge turtle. Some experience. As we swam back, we had some story to tell. Mr. Sisira then guided us towards a shack hotel which was owned by a friend of his. They treated us to shark soup and fish noodles. With a beautiful sunset and an exciting story to tell, we headed back towards Colombo.
As our flight out of Colombo was next day early morning, we decided to have a late dinner at Negombo beach and head directly to the airport. The beach in Negombo is dotted with bars and restaurants facing the sea. We chose a lively place and ordered some seafood. The food was great and we were able to relax after the evening excitement. A lovely breeze across the beach made the atmosphere absolutely serene. And with such memories we headed to the airport for our flight to our next destination, Male.
Blog Archive

About Me
Abhishek Saha

Lucknow, Uttar Pradesh, India
A NRB (Non Resident Bengali) or rather a 'Probashi Bangali'; born in Kolkata, brought up in Jamshedpur and now trying to make his mark at IIM Lucknow.
View my complete profile

Lord reads


Lord's tweets